Get the latest updates on solutions for youth employment by subscribing to our newsletter.
S4YE Current Monthly Newsletter Edition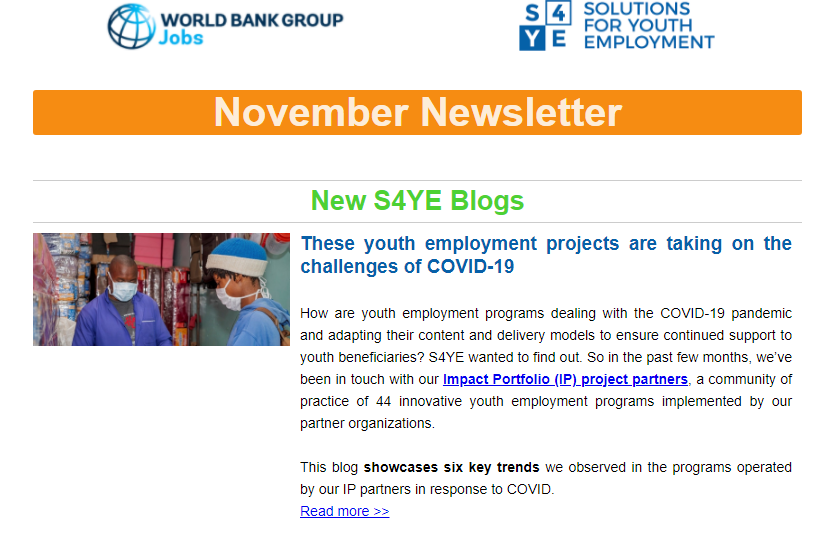 S4YE Previous Monthly Newsletters
October 2020 September 2020  August 2020   March 2020      February 2020   January 2020   November 2019    
S4YE COVID-19 Newsletters
Issue 8    Issue 7    Issue 6    Issue 5
Issue 4    Issue 3    Issue 2    Issue 1
S4YE COVID-19 Blogs Newsletter Launch
S4YE Blogs
These youth employment projects are taking on the challenges of COVID-19
Six strategies to increase young women's access to digital jobs
Five strategies to address employment hurdles faced by young Syrian women refugees
Nurturing creativity: how development organizations can support the growth of "orange jobs"
Three ways artificial intelligence can help boost youth employment
Don't overlook the orange economy: five reasons why creativity is key for the jobs agenda
Broadband Access Spurs Jobs in Hard-to-Reach Areas 
Youth-led solutions during COVID-19: The Food Crisis 
Youth-led solutions during COVID-19: Workforce training
Youth-led solutions during COVID-19: Health care
Youth-led solutions during COVID-19: Harnessing social media
3 ways to build lasting apprenticeship programs 
3 Ways the private sector is stimulating agri-preneurship
Five insights from S4YE's regional youth employment forum in Ethiopia
World Bank launches new tools for youth employment projects
Social and cultural barriers keep young women out of the economy. But we can change that.
Creating new opportunities for young women in the digital economy
Accelerating and learning from innovations in youth employment projects
What LinkedIn data can tell us about tackling youth unemployment
International Youth Day: New innovations and learning on youth employment